Getting a new client is 5x more expensive than retaining one. Real business happens after the deal is closed. Managing expectations and delivering on the promise is a given in the world of informed and outspoken customers. Proper Quality Management helps lower costs, achieve better margins, command higher retention/renewal rates, and hence market share
Companies that don't have a QMS plan usually struggle with product safety, product quality as well as failure to achieve regulatory compliance.
Ambit augments the already powerful SugarCRM capability as a modern SaaS-based CRM to also managing customer expectations post-sales. Adding case and nonconformance management, to guiding on corrective actions and conducting audits.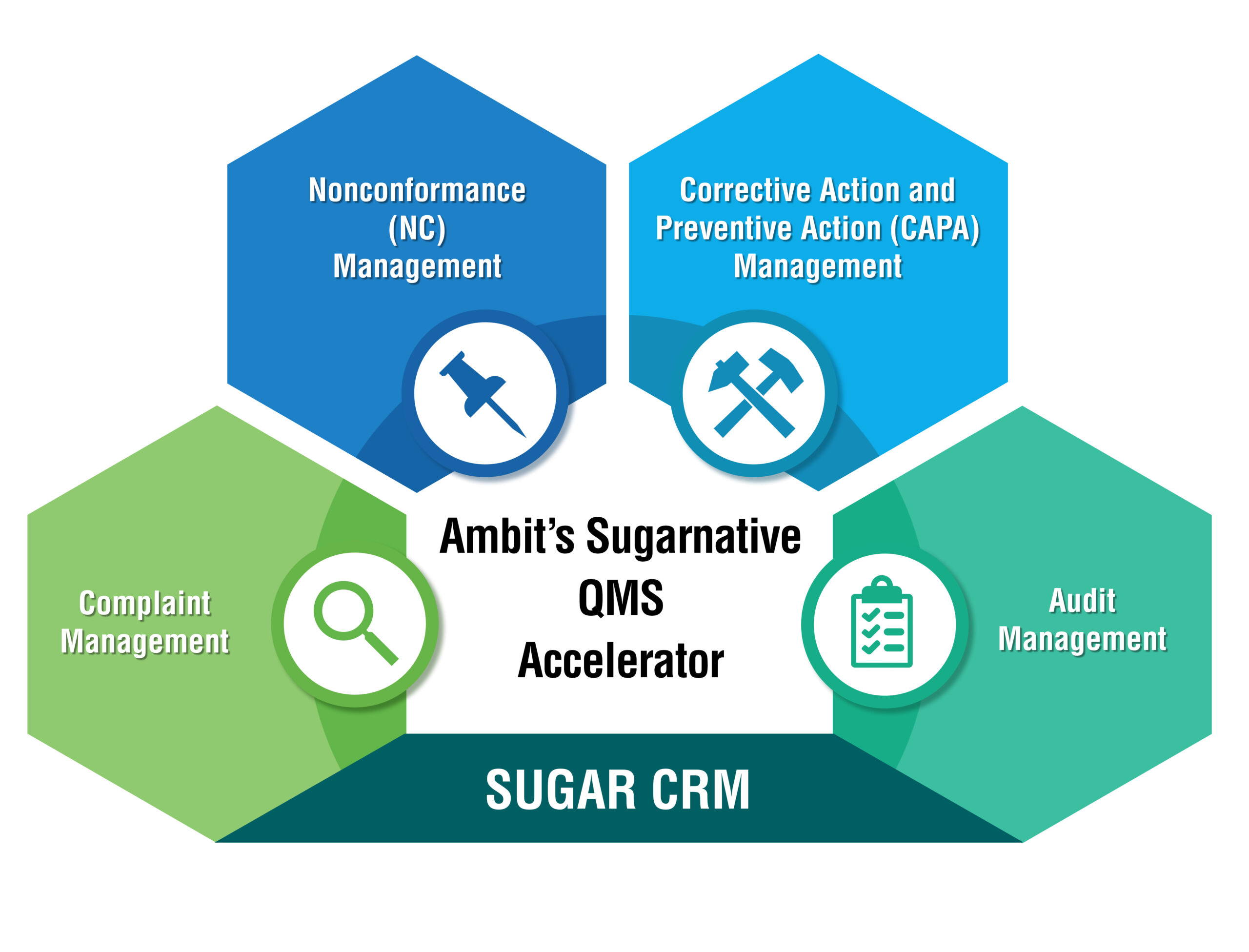 Features

Compliant
Management
Document Complaints & Classify them, Perform Risk Assessments, View Product History, Identify Root Cause Analysis, Customer Communication, Implement Actions and comply with the regulations.

Nonconformance
Management
The module records key metrics about the NC and provides a dashboard with Location, Defect type & subtype, corresponding Product and Assigned To, and visualize the NC metrics.

CAPA
Management
Log defect notifications from sources such as User Forums, Customer Portal, Webform, Email or Twitter. Prioritize CAPA and take them through stages: New, Assigned, Pending, Closed (resolved), Rejected.

Audit
Management
Manage the lifecycle of audit planning, through execution (findings & reports) and closure. records key metrics such as Audit Type, Outcome (pass/fail), Audit Status, Audit stage of in-progress Audits and Lead Auditor
Offerings

SugarCRM Consulting
Discover how the capability of a powerful CRM like Sugar can be augmented further

System Integration
Break down silos by connecting islands and create a get a grip on your business operations

Application Customization
Customize the application to your businesses need with the help of SMEs, architects, and developers

Application Accelerators
Accelerate the pace of implementation and onboarding with quality accelerator apps

User Training
Enable quick on-boarding and adoption with certified trainers with industry experience

Maintenance & Support
Avoid application downtime and quick resolution to technical issues with professional maintenance and support