A large percentage of total revenue typically comes from a small percentage of accounts. These accounts are a great asset for any business. Not only recurring but also up-sell and cross-sell opportunities exist if these accounts are managed well.
Account Managers don't only sell. A great portion of their time is spent in building long-term, profitable relationships with stakeholders, cross-functional teams and influencers in their target accounts. Insights into these aspects are often lost when an account manager leaves. Companies should invest in collecting information and making it easy to access when reviewing accounts or onboarding a new account manager.
Ambit helps augment the SugarCRM experience by simplifying complex buying processes. A BU-level strategic plan that dives deep into existing relationship strengths with key players and its attractiveness to your business. A historical view of the evolution of account and BU status gives a holistic view of potential account revenue.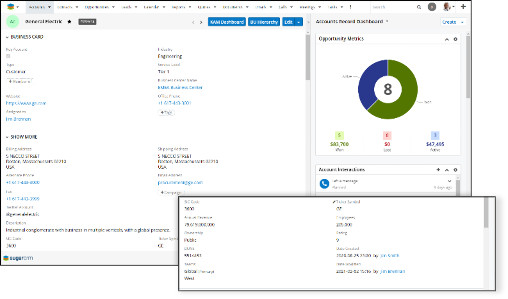 Account and BU-level focus

Large accounts are complex beasts. Breaking down these large accounts into logical and manageable buying units (BU) makes it easy to create strategies for subsets. With each buying unit having its unique buying processes, each account can have BU-level unique workflows.
With SAM (Strategic Account Management) plans, you can now measure BU relationship strength and the active players involved. With a visible relationship chart, a quick look shows the current status of the account. You can also see how attractive a particular BU is to your business.
BU Strength & Attractiveness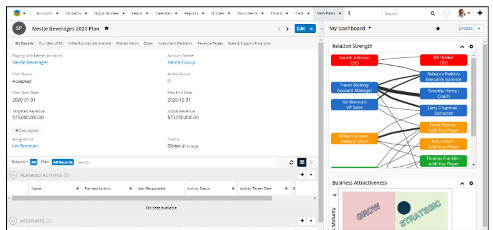 Account Grandstand

Get a high-level view of the entire account and the status of all of its Buying Units. A multi-account view gives your business a rounded view of how your account management teams are performing in all target accounts and their evolution over time. Draw strategies to move your most profitable accounts in the quadrant of your choice.
Draw a comprehensive customer journey map for a given account. Make it easy for Sales/AMs to onboard and act on closing fast. Enable marketing teams to develop and map assets for strategic accounts. Get a quick view of the completion of the BU plan based on defined KPIs.
Account Planning & Completion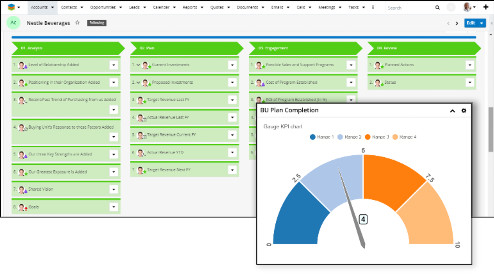 Key Account Landscape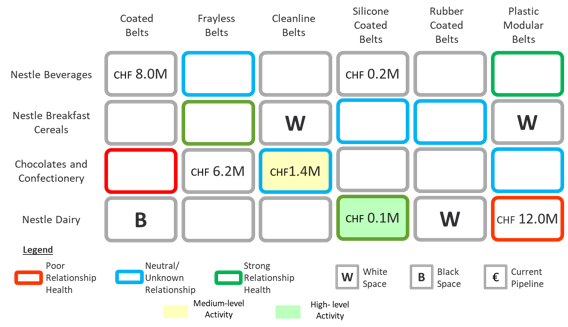 Product-BU view overlapped with relationship status, opportunities to grow new connections, and the level of activities is an indispensable asset for business leaders planning to grow sales. One view that both marketing and sales teams can relate to when working on strategic accounts.